2550 mm paper machine 30-400 Gsm
Print this page

Product ID:

VAK11324

Name:

2550 mm paper machine 30-400 Gsm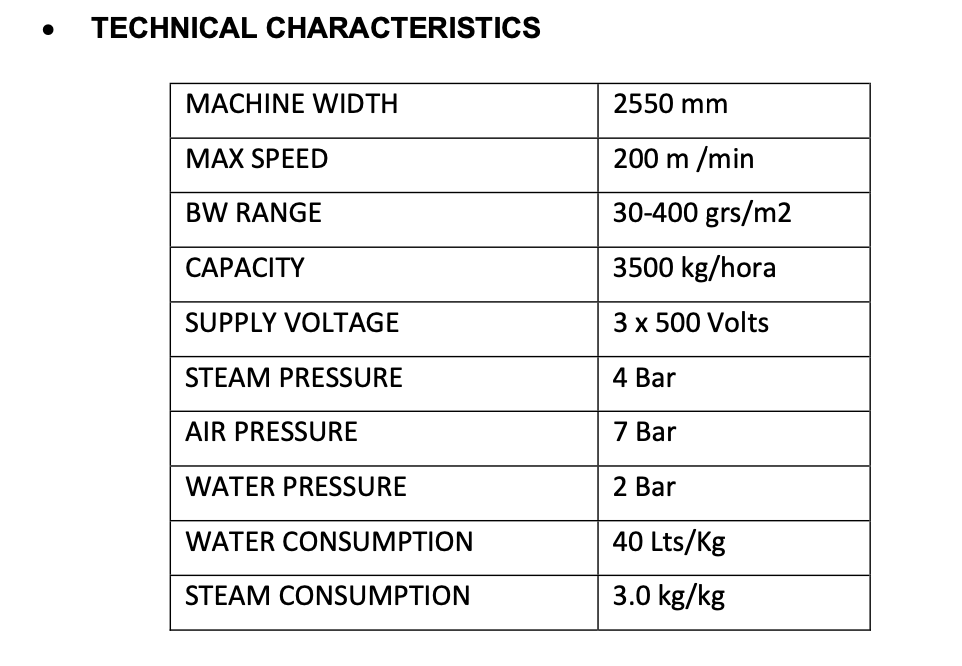 MACHINE DESCRIPTION
Has produced a wide range of products:
Fine papers, 60 to 220 GSM with watermark and deep colors. High quality board papers up to 400 GSM
Other specialty papers from 30 to 90 GSM
Production range is from 30 to 400 GSM running at 50 to 220 m/min.
Paper with at reel is 2550 mm max.
Capacity is up to 3500 Kg/h.
Main characteristics is its formation uniformity CM and MD, gradual drying rate both wet and steam dried.
GENERAL DESCRIPTION
FORMING SECTION WITH DANDY ROLL
It is a Fourdrinier type with removable table for wire change, cantilever couch roll, closed headbox for optimal flow rate at any speed and watermarking Dandy Roll.
PRESSES
Three 80 kg /cm2 presses, 2 lower felt and a 3rd upper felt, allowing good drying capacity and surface smoothing.
Water content after presses is about 50% below 120 GSM.
DRYING
Consist in a main battery of 18 driers of 1250 mm diameter, in 3 drive sections with drying felts on both sides.
Post drying after size press is done with 6 driers, 4 of 1000mm dia and 2 1250mm diameter in one drive section, with automatic paper moisture control.
All driers tested at 4 Bar, heated with steam at 3.7 Bars max.
All sections covered by a recovery heat hood that allows pocket ventilation at 90 degrees Celcius.
SIZE PRESS
Two rubber 350 mm diameter rolls working at 20 Kg/cm allows sizing with starch and latex.
CALENDER STACK
Küsters 400mm dia King roll, 2 intermediate 330mm dia rolls and un upper 400mm dia Queen roll that can be used as a one pass or three pass calender up to 80 Kg/cm.
MACHINE DRIVE
It is a line shaft with conical pulleys, pneumatic clutch and angular reducer for 11 sections. Motor drive is 300 Kw dc.
SECURITY PAPER MACHINE
  Deckle : 2,55m
  Max Speed : 220m/min
  Basis weight range : 40/400gsm
  Headbox : pressurized / Stainless steel built in 2003
  Fourdrinier with foils, 6 vacuum boxes, Couch Roll with vacuum
  2 vertical presses with bottom felt – max 80kg/cm
  1 vertical presses offset – max 80kg/cm
  18 Drying cylinder – Diameter 1,25 m – 3,7 ata steam pressure
  Inclined Size-Press – working pressure 20kg/cm
  6 Drying cylinder – Diameter 4×1,0m + 2×1,25 m – 3,7 ata steam pressure
  High efficiency hood
  Machine Calender – 3 NIPs – Kuster bottom roll
  Vertical Reel up (Pope
  ABB supervision & gauges for Moisture & basis weight control
Product portfolio
1). security papers, like for checkbooks, fiscal stamps, minutes for notaries
2.) papers for wine labels,
3.)  bristol cardboard for various commercial applications, like posters, bookstore, 
4.) papers with watermark, 
4.) plasterboard

Operational Features: The very versátiles headbox with both option to run either with vacuum or with pressure between 0.5 abd 1.15 % of consistency and a forming table with a vacuum system, that let the operators to work with less or more water on the table…
It had a very flexible, multiple  vacuum system, where you could easaly regulate the amount of water to handled on the table…
Production Mix : ThePM was continuously switching from one grade to another,  between 40 and 330 gr/sqm of basisweight.