2280 mm Tissue machine. 22-55 Gsm
Print this page

Product ID:

VAK11156

Name:

2280 mm Tissue machine. 22-55 Gsm
Foundrinier wetcrêpe tissue machine
Double press, Yankee with gas heated hood and after dryer group
Max. Speed 650 m/min.
Crêpe 5-15 %
Paper width on pope: Max. 2280 mm. Grammage range: 22 – 55 gsm
Available equipment
• headbox (Voith)
• main frame: wire, felt, Yankee section (carbon steel, stainless steel)
• wire and felt after dryer all guiding and drive rolls
• foils and suction boxes from wire's dewatering section (ceramic)
• pick up unit (wire to felt)
• blind press
• suction press incl. drive gearbox
• Yankee cylinder (Voith cast iron with metalization Valmet Infinicote-2)
• cleaning, and crepping Yankee's doctor blades (carbon steel ceramic crepingblades ) • Yankee wet and dry hood (spooner)
• heat recovery & fans burners
• Afterdryer group
• pope reel incl. drive gearbox slitting unit
• tambour expandeble shafts 6 inch ‐ 4 pcs shaft extractor
• drive controll system (DC BBC/ABB), including wire, felt, Yankee, after dryer Group, pope
Major rebuilts:
–  1986: After dryer group 6 cylinders (Gustaf Reinhard u Co)
–  2006: Installation of Headbox (Voith 1983) overhauld by Voith
–  2006: New foils Lovac & highvac.
–  2016: Yankee's new metalization by Valmet infinicote-2
Please see photos section also for pictures and more data!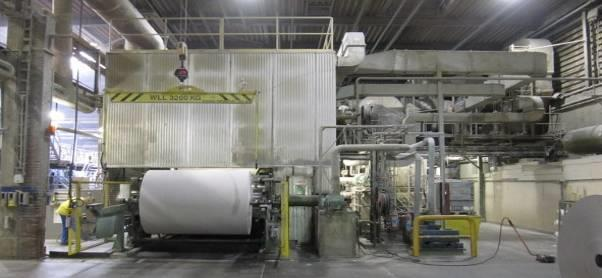 Foundrinier wetcrêpe tissue machine
Double press, Yankee with gas heated hood and after dryer group.
Stock pump with stuffingbox and basisweight valve (BTG)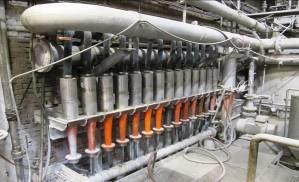 Primary cleaning low density stage 14 pcs with pump
Secondary cleaning stage low density 1 pc with pump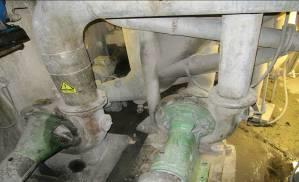 Headbox pump & First stage pump
Combinated primary and secundary whitewatertank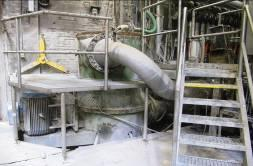 Primary screen: Build Finck 1978 Type: K100L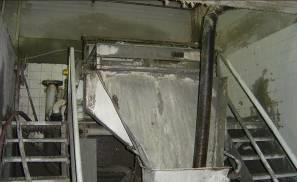 Secondary vibrating screen: Build Finck 1978 E 2/1.5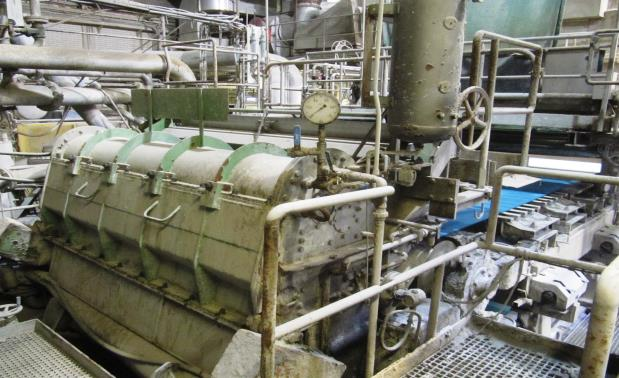 Headbox:
Build Voith 1983
Type: Single layer with aircushion Slice width: 2350 mm.
Flow: 5900-14000 l/min. Overhauled by Voith in 2003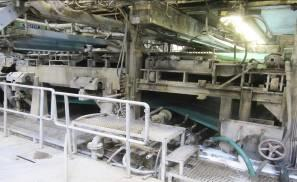 Foundrinier:
Wire width/length: 15850 * 2465 mm. Breast roll diameter/face: 545 * 2610 mm. Leadrolls 4 pcs. Diameter/face: 230 * 2605 mm.
Wire driveroll with drive and gearbox
Hydraulic controlled guideroll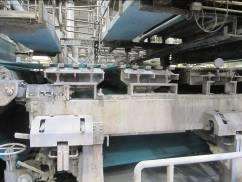 Foils 2 with ceramic covers
Con Low vac box
Brand Johnson foils 1984
Number of slots 8 with ceramic covers Water separator pump
High vac box
Brand Trivac 2003
Number of chambers 3 with ceramic covers Water separator pump
Pick-up unit (wire to felt) hydraulic controlled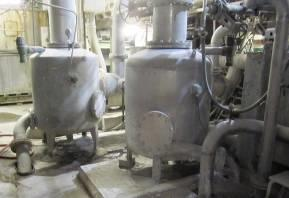 Yankee cilinder:
Build Voith year of manufacturing 1964
Cast-iron Plain inner surface
Diameter 3100 mm
Width of Yankee 3500 mm.
Operating steam pressure max. 5,0 barg
Metallization: Valmet Infinicote-2 Year of the metallization 2016 Drive and gearbox
Steam plant
Crêping station with ceramic blades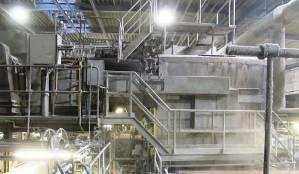 Gas hood:
Build Spooner 1971
2 Burners Flameco/Eclipse natural gas Circulation fans WE & DE
Heat recovery gas hood and dryer group Build Langbein & Engelbracht 1986 Steam heater
Heat exchangers air/air by glass tubes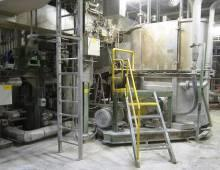 Stand alone broke pulper
Build Robopaper, pulper fed by conveyor
Machine drives:
Type: DC
Brand: BBC/ABB
Cooling drives fan & heat exchangers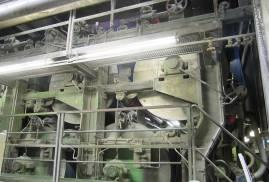 Afterdryer Group with 6 dryers
4 groups (1e under 1e upper 2e under 2e upper)
Dryers diameter x width 1800 mm x 2500 mm.
Hydraulic controlled guiderolls
Steam plant with separators and controlls.